Happy summer solstice!
It's a great time to reflect about what this last season brought you, and about what new energy you want to bring in over the season that's beginning.
In my personal life as an intuitive, I love to follow the moon and her cycles and the changing of the seasons, because they so directly impact us and our cycles, especially as women. When you can be in the flow with nature's rhythm, it helps you be more in the flow with life and everything it throws at ya!
So, it's time to set intentions of what NEW seeds you want to sprout this summertime. To help, I pulled a few oracle cards for you!
Look again at the pic above and see which card & crystal pair is calling out to you most...then read below for your personal solstice message....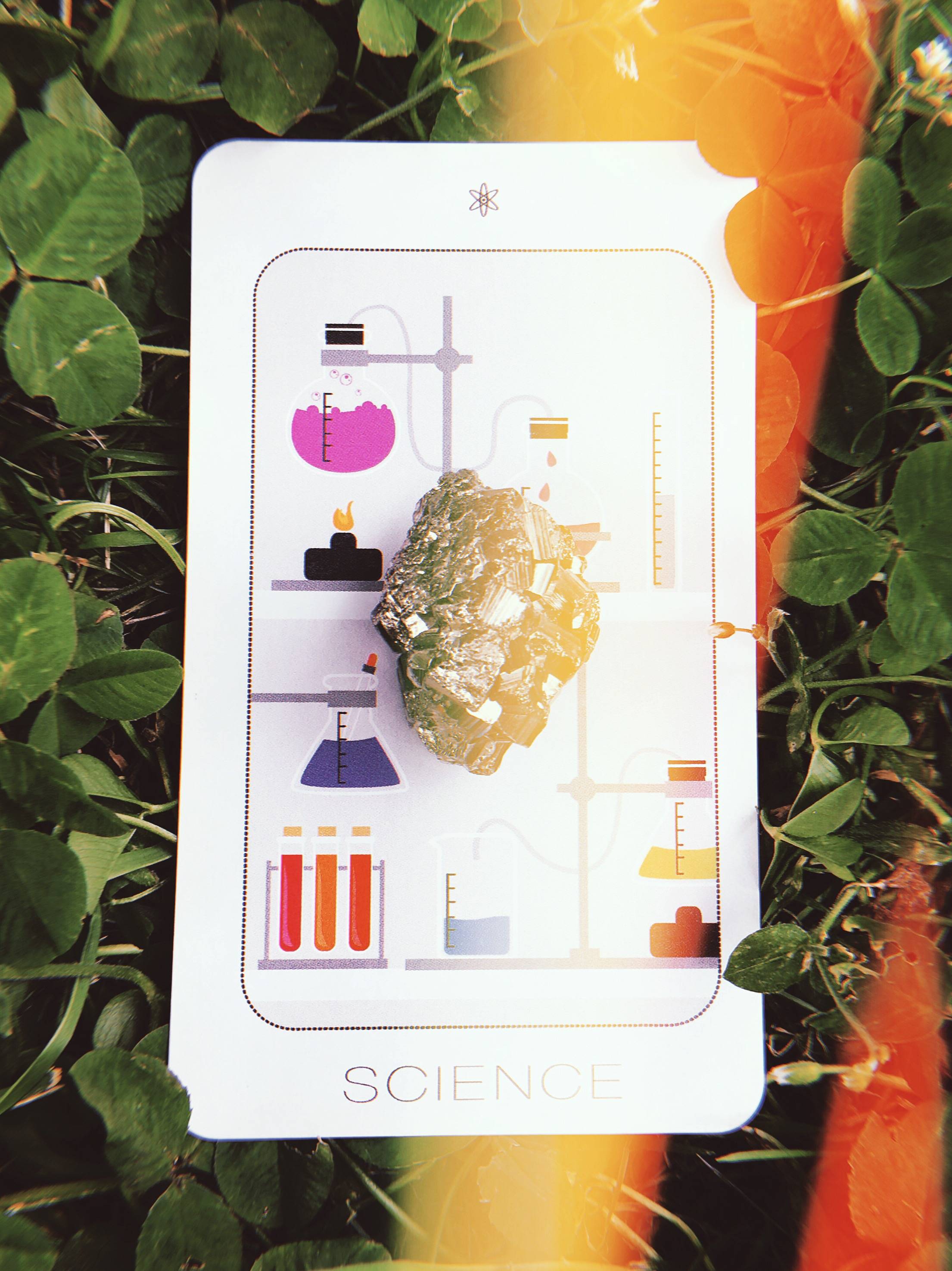 It's no coincidence the first card I pulled is SCIENCE, as Hawkhouse is the perfect blend of science and nature coming together to create a wholly new human creation- righteous stuff.
This card is asking how can you bring a more scientific approach to things going forward? Ask yourself where are you acting impulsively, erratically, over-emotionally? Take a breath and find a more methodical approach. Science is about observation, research, analysis and making conclusions only after the rest of the puzzle pieces have come together. Where can you pull back in life to take a more observant stance, and see from a different perspective? Where are you getting so rapt in emotions that you're not able to move forward, and looking from a more "rational" or Earthy lens could be of benefit?
Pyrite, or fools gold, represents ALCHEMY, and transformation, and this card implies there is something in you waiting to be transformed through a more patient, curious, detached lens. Pyrite can give you strength in perception and willpower to ground back into the steady, Earth energy and help bring those new ideas and new ways of being to life.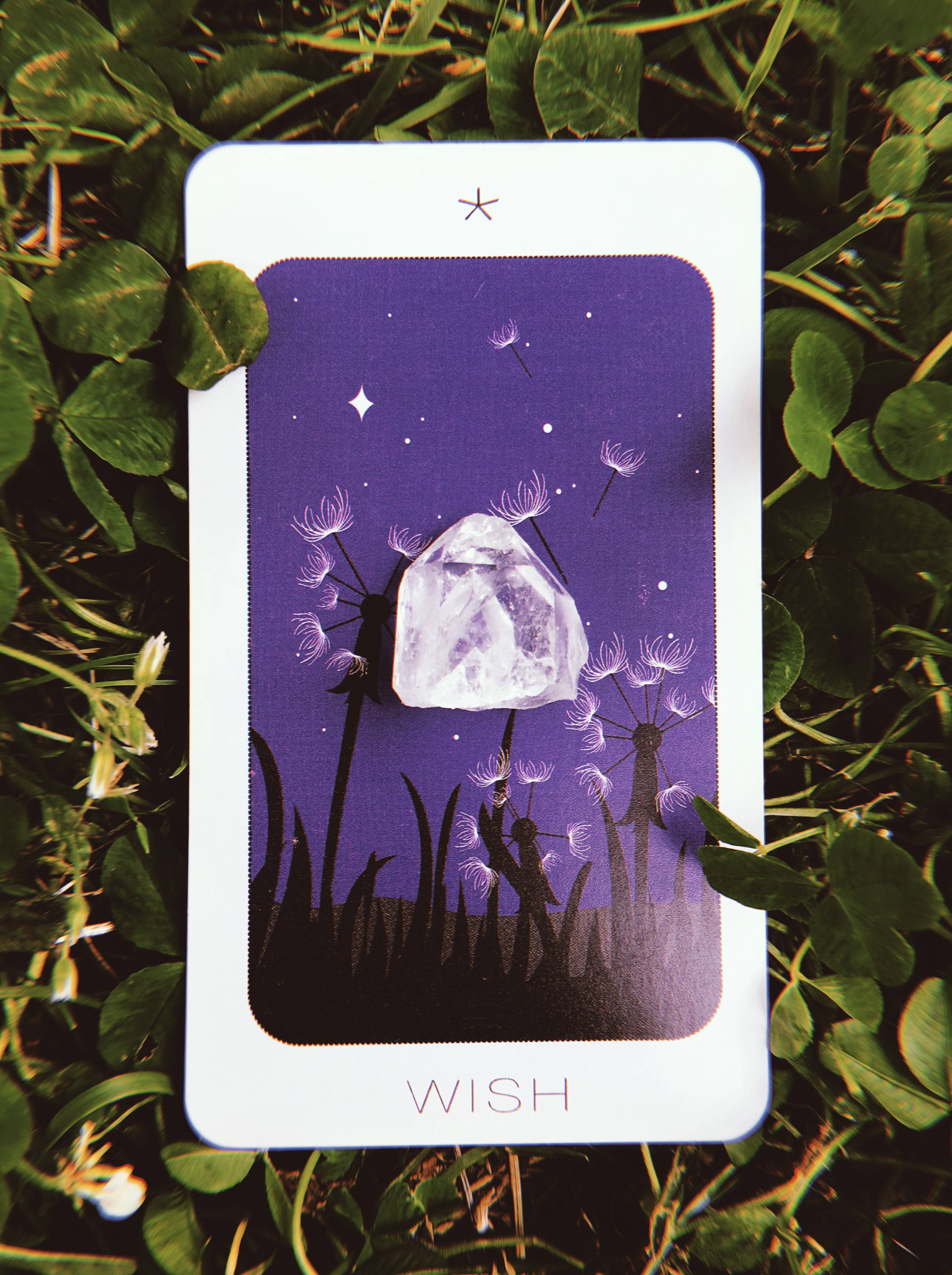 This card is asking you to reach up into the heights of your highest desires, hopes and dreams, and to pull from there the new creations and energy that you WISH to bring into this next cycle of your life.
Where have you been too practical and rational in life and not letting yourself dream big? Often times when we wish for something it's from a place of lack, which only reinforces what we feel we're missing. But, desire is also the exact tool from which manifestation is created, so the key is in allowing yourself to dream from that childlike wonder and imagination, like "wouldn't it be cool if..." without getting attached to the outcome. Daydreaming, envisioning and imagining what life could be like in this way opens new gateways of possibility in your mind. This summer, ask yourself how can you better connect with your inner child that dares to dream and imagine all possibilities? How can you align more with your highest desires from Source?
Clear quartz is the perfect aid to open up your crown chakra, balance your aura and align you with those desires coming from your higher knowing and intuitive self. If it's more of the carnal, Earthy desires you're looking to fulfill, try Ruby, one of our fave stones for the summer!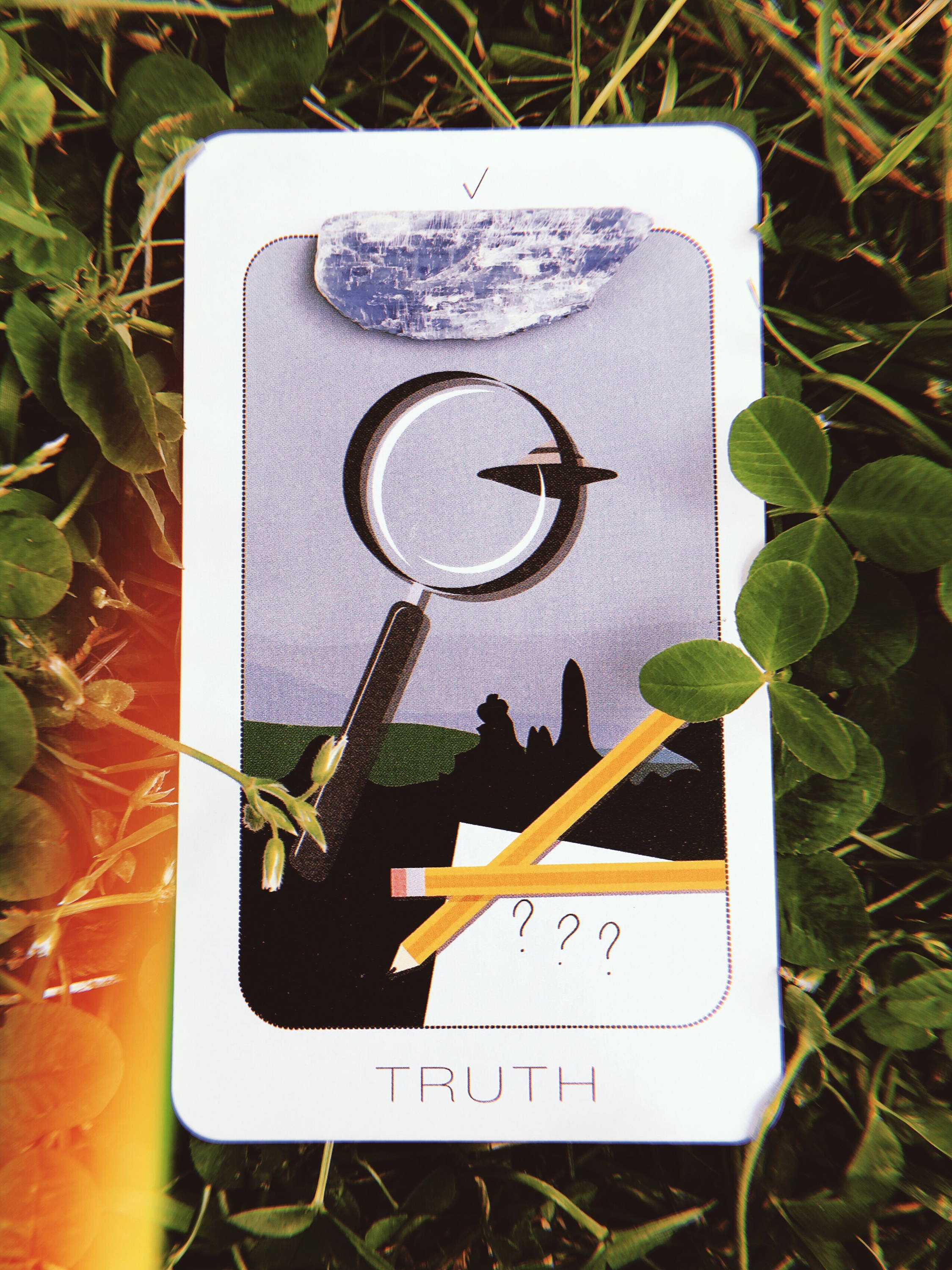 The TRUTH is out there.... and guess what? It's also IN HERE.
This card is asking you to investigate the truth as you know it. Time to question, stay curious and ask a lot of "but whyyyyy?" What do you just go along with in life that you've never questioned before? What thoughts in your mind do you take as true that need to be investigated?
There are limiting beliefs within you ready to be found and stripped away to reveal the TRUTH of who you really are, so you can let yourself shine shine shine out into the world even more. What are the truths you're holding about the world or people around you that are based on your own limiting perspectives (ie: I was traumatized so the world is scary) that you can start to look further into, to expose and transform not only your life, but your whole perception of it?
It starts with small steps- kyanite helps enhance your intuitive knowing to help you dig deeper for the truth out there and in you, and as a throat chakra healer it helps you begin to communicate your truth more openly and without fear. This solstice energy is asking you to let go of fear and presuppositions to find out the truth of who you REALLY are!